I recently moved from my small shoebox of an apartment to a larger "boot box" a few miles up the road. However, my new living room is slightly smaller in square footage, as I gained a bigger kitchen and closet. The result was a frustrated woman (me) knocking into couches left and right, no matter which way I angled them. I eventually sold them on
Craigslist
, ready for a fresh seat (start?).
I ventured out into the furniture shopping world, cash in my pocket, to hopefully find a smaller set. Clutched in one fist was the dimensions of my apartment, and in my other hand a tape measure.
Determination
and claustrophobia were my motivations.
Have you heard about the newest craze,
Rooms To Go
? The premise of this place is that you can buy an entire room of furniture for a steal of a deal, and have your home instantly decorated - EXACTLY h
ow their underpaid designers laid it out within the store - with little to no effort!
Like that denim couch set with the saggy lazy boy? It can be yours for only $2,000, and it comes with the coordinating geometric rug! For added dramatic effect, paint the railing on your staircase a delightful electric blue. It's just an accent, not an overwhelming addition to your already shabby pad with a picture of a window to look at. I'm sure you'll get LOTS of ladies with this set. (Is it me, or does that whole set look like a slipcover set purchased from the clearance rack at
Wal
Mart?)
Or this cheeky little number, which I had to see in the store to believe:

The color, which reminds me of mashed peas in baby vomit, is called "Silhouette Pear Green" A 7 piece set, yours for only $1700! And yep, you're stuck with the 1974 lamps and coffee table, which looks as though it could be knocked over by a gust of wind at any moment. The oh-so-comfortable sofa is also a sleeper. Perfect for torturing your husband to unfold when guests arrive! You can find the same set in other colors, such as Galveston beach sand, rusty nail orange, and retro-powder blue. Cindy Crawford must be proud to have her name associated with this beautiful set. I love how one of the lamps is
eco
-friendly - it's growing its very own plant right out of the shade!
There's also an accent chair! Stare at it for a few minutes, and the geometric shapes adjust before your eyes. It goes with all 4 of the collection's colors...
Ok
, time to refrain from laughing. I found three sofas on the website, and in my determination to find a set sooner rather than later, I went in on a whim to check out the place.
Disclaimer: This review is of a local store near my new dwelling. This does not reflect the overall customer service of Rooms to Go and its affiliates.
Your store may vary in selection, size, and employees.
I have
visted
3 times to this particular location, and each time have been more than disappointed. On each visit, I was well-dressed (usually having been on my way home from my real job, which pays me real money to write). And each time, I was given a 'hello', then passed over for a married couple or a non-English speaking family with 27 kids running around. Each time, aside from my last visit, which is written below, I left without being helped. I suppose the salesmen figured I could simply write up my purchase, pay my money, and leave a copy of my receipt on the desk on my way out, couches strapped to the tailgate of my sedan. No bother.
I continued to make my way around the store, then saw a clearance section in the back. What they don't tell you in the clearance section in the back:
1. We are not here to help you, as we are making absolutely no commission off your cheap-ass purchase. Therefore, see number 2.
2. We aren't delivering this furniture to your home. Better get your
UHaul
flat bed trailer and load this on your own. That's right, we don't even help you load it up!
3. These prices are not the cheapest around. Like a liquidation sale at Linens n' Things, we have jacked the prices up 175%, then 'slashed' them by 50%, resulting in you paying twice as much for clearance furniture, and no that is not a stain on that microfiber couch, it is a shadow.
I meandered my way through mismatched pieces, a few dented sets, a rather rude sales guy who reminded me that there was no way in Hell he'd help me load up the pieces, and if I have questions to read the back of the cards pasted on the furniture. He then took off to the bedding section to assist a rather busty woman select a sturdy headboard to attach her handcuffs to. Interesting...she didn't look like a police officer...
I gave up in clearance and headed back to the main showroom. I laughed at a denim 'country style' set up, complete with fuzzy cow hide rug, 'iron' (spray painted plastic) accents, and 'wood' (composite shavings) accent tables. The lamps were complete with Texas stars, horseshoes, and cowboys. I sensed a pile of manure was all it took to complete the effect, but due to health codes, R2G was forbidden and had to return it to the dude ranch. The poor
decoraters
instead threw a large picture of a steer above the
loveseat
.
Finally, despite being ready to spend money, no one offered any help whatsoever. I caught one sales guy snoozing in a massage chair. I asked him if I could get him some coffee, and he gave me an irritated look, however did not heave himself out of the chair. He rested in the chair for about another 15 minutes before a young kid approached me, asking if I needed help. Finally, service!
Wrong. I attempted to explain my size requirements, which I already knew he could not fulfill (take that any way you want it, kids.) He pretended to understand my decorating needs, and stuttered that no couch in the store was going to fit.
Ok
, I'll leave. Good job, kid. You just blew a sale.
In his realization that he just put his foot in his mouth and lost his potential new pair of
Abercrombie
jeans, the kid blocked me from the exit and lead me over to a sagging set that would no way fit my needs.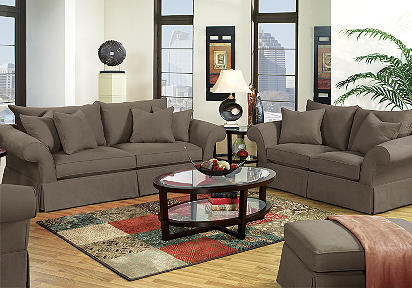 This 7 piece set was on sale for $1788. I explained I didn't need the whole set, that unfortunately the color isn't espresso (aka: dark brown, people) and that those cushions would not hold up to my liking. He ignored my rebuttals and asked me which pieces I was interested in. I told him the
loveseat
, chair, and ottoman, fully knowing I would not be purchasing the set. He quoted me $1500.
Am I the only one who sees a problem with that? I looked at him, dumbfounded. For $200 more, I get lamps, a coffee table, and a sofa?
"Uh, yes ma'am." he must have thought I was crazy, not seeing the amazing deal for a fantastic furniture set of the highest quality. Der...
$1500 for 3 pieces of furniture is not going to sell me. He made no attempt to cut a deal, instead unzipping one of the pillows to show me the double-layer of fabric they use to keep the foam insulation secure and look at the pretty colors it comes in and do my pants make my butt look big?
I thanked him, reluctantly took his card, asked the other sales guy if he'd like a massage with a happy ending, then said he should get off his lazy butt, as I'm not allowed to do that at my job. "Sucks to be you," he said.
My overall opinion of Rooms To Go? Fail.
The sales staff is biased, probably due to their extensive sales training from corporate, who explains that couples are more likely to spend money than a single person. True, but again, don't sell all of us single cats short, as I had lots of money to spend, had I been stupid enough to take 3 pieces of furniture for $1500.
There is no negotiating prices like individually owned stores (
Gallery
,
Bi-Rite
, even
Star Furniture
in Houston, TX will allow you to negotiate). I was unable to see financing terms. What you see is the amazing deal of what you get. No mixing and matching. You'd better like that snazzy pickled pink coffee table with your room or know how to use a can of varnish. Otherwise, go find another set.
Their version of 'clearance' and the average shopper's view of 'clearance' are entirely different. Full priced furniture is less expensive than what I saw there. I saw a set on clearance that was the exact same set I owned several years ago, for twice the price of what I purchased it at - on sale.
My vote? Go somewhere else. I have a list of good furniture stores to shop at in the area, so feel free to drop me a line and I'll fire it over.